Information about the links or groups of links shown below.

To help others in their search for answers, I've included a couple of search engines and links to several resources for information on heart diseases, along with a link to Medtronic, the company that produced the pacemakers my brother and my niece have.
I will be adding more as I have time.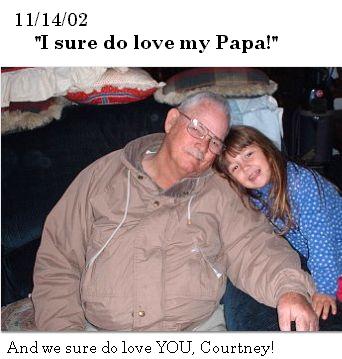 Papa had prostate and bone cancer. He passed away in July, 2004, but died knowing that his granddaughter now had a chance at life.
Miss you, Dad.
Medical Sites for Research
Medical College of Georgia Voted the best hospital in America! Here's why
Medtronic
Discover the dangers of bradycardia and other heart-related dangers here. What you may not know can kill you.
Franklin Institute Science Museum
Online exploration of the heart.
Heart Information Organization
Get information about what makes a healthy heart. Learn about the cardiovascular system, healthy hearts, heart disease, treatment options and the latest news.

Heart Online
A peer review journal for health professionals and researchers in all
areas of cardiology.